W. Bryan Hubbard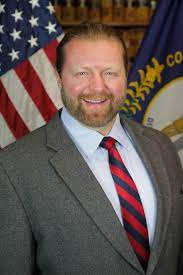 W. Bryan Hubbard serves as Chair and Executive Director of the Kentucky Opioid Abatement Advisory Commission as well as Special Counsel to the Attorney General's Office of Medicaid Fraud and Abuse Control. He previously served within Kentucky's Cabinet for Health and Family Services as Commissioner for the Department for Income Support.  In this capacity, he was responsible for leading and managing the Commonwealth's Social Security Disability and Child Support Enforcement programs.
During his time of service, he led a research team of policy experts in drafting "Social Security Disability in Kentucky: The Evolution of Dependence, 1980-2015," which provided a foundation for reforms proposed to the White House Domestic Policy Council and the Commissioner of the Social Security Administration. Hubbard attended law school at the University of Kentucky where he was president of the Moot Court Board and selected as its most outstanding member. 
After law school, he practiced workers' compensation law across the state for 16 years.  This experience allowed him to examine the relationship between joblessness, poverty, disability, and drug dependence.  He was raised in Virginia's coalfields and has lived in Kentucky since 1997​.